Gerald the Pig is a  normal Minecraft pig owned by CreeperAttackz. They have been with each other a long time and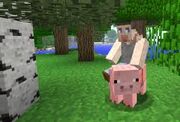 are a pretty cool team together
Experiences
Edit
Gerlad has been with CreeperAttackz for a month. They have moved and fought together, and he has been moved many times and still doesn't like to go outside.
Gerald the Pig was killed on January 30th of 2012.
While a user named ROBLOXJarnac was putting in a new farming mechanism for Creeper, Gerald the Pig died. It was unknown how he died, but  ROBLOX's farming mechanism added something in that could have suffocated him. Either way, Gerald the Pig is dead and Creeper misses him dearly. He has held a funeral in honor of him.